Booms Fishing Focus on Fishing Tools and Accessory !
We insist on making fishing easy !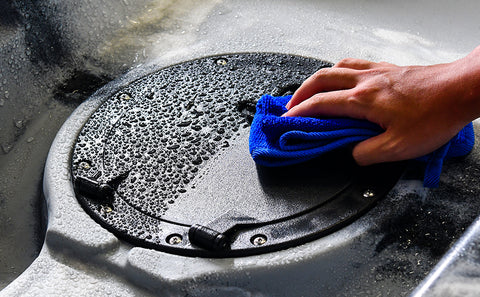 High water absorption, strong detergency to remove blood, slime, bait fast.
With a lockable grommet for Hands Free use.
Perfect size (14.6″x 11.4″) to keep in your back pocket for when you need it.
Anti-microbial fabric to reduce mildew odors and dry fast.
Durable materials for washing and repeated use.
A simple accessory to make a fishing day better. 
After handling bait or release a fish, a quick wipe cleans slime, blood, and bait. 
Made of highly absorbent microfiber that makes efficient cleaning, 
and easy to wash with less leaving odor.  

Use Wet Towel to Hold Fish 
Do not hold caught fish with a dry towel. 
Most experienced anglers know that this is bad practice 
because it removes the slime that protects fish from disease. 
Instead, a soaked towel is very helpful for the fish.  


Care Instructions 
The towel will lose part of smoothness and reach full absorbency after one wash. 


Machine washable
Wash not above 40℃/105℉, away from heat.
Do not use fabric softener.
Do not bleach.
Do not dryclean.Do not iron 


Thirsty Towel, 3 pcs 

Material 80% Polyester, 20% Polyamide
Item Weight 50g
Item Dimensions Length 36cm
Item Dimensions Width 30cm 


Fast-Dry Towel, 3 pcs
Material 80% Polyester, 20% Polyamide
Item Weight 45g
Item Dimensions Length 50cm
Item Dimensions Width 40cm